Students and Future Estheticians…
The beauty industry is growing at an unprecedented pace, with a 40% growth rate expected by 2016. Get your foot in the door and take avantage of the opportunities that are presenting themselves now!
Resume Samples for Estheticians
Job outlook and Salary Range
Graduates find that with an Esthetic Institute diploma (and state licensing, when required) and our ongoing Job Placement assistance, a world of opportunity awaits them. These are just some of the many rewarding career-paths Esthetic Institute graduates follow:
Esthetician
With their comprehensive knowledge of skin care, Estheticians are in high demand wherever they go. Esthetic Institute teaches you everything you need to know and offers both state and international certification.
Medical Esthetician
Apply your knowledge of Esthetics in the medical office, prepping patients for facial procedures. This field is growing quickly. Our schools ground your education in solid medical biology, so you'll be read to apply your thorough knowledge in the medical theater.
Makeup Artist
Makeup artists, especially those with advanced skill sets, are always in demand. By combining your knowledge with creativity, you can expect to earn an ample wage in a variety of industries. From basic makeup to the latest in theatrical makeup, Esthetic Institute will have you ready for whatever course you plot in this very diverse field.
Nail Technician
This diverse field, including manicurists, pedicurists and artists, is highly rewarding. We'll teach you everything you need to know, from the most basic health concerns to the finest in delicate nail art.
Sales & Reception Manager
Spas and Salons need informed and experienced people to welcome customers and recommend the products that would best suit them. Having the comprehensive knowledge of Esthetics that you receive during your training at Esthetic Institute, will help you be the best you can be.
WaxingSpecialist
Waxing professionals are in heavy demand due to the increasingly popularity of this procedure. Our experienced, professional waxing instructors will teach you everything you need to know to find success in this challenging, rewarding career.
Laser Technician
Laser technology is increasingly being used in the skin care field, and dedicated professionals are in need. Combine your love of technology and beauty into one fruitful career! At Esthetic Institute , you'll receive an education that will prepare you for both the technical and artistic sides of this career.
Peeling specialist
Chemical peels are one of the most popular procedures into today's beauty industry. Peeling specialists need the solid background in chemistry and skin care that you'll receive at Esthetic Institute .
Beauty Consultant
Beauty consultants are needed on television, in department stores and on the floor at spas and salons. The advanced knowledge of skin care, esthetics and makeup that you'll receive at Esthetic Institute will help you to achieve the success you desire.
Personal Beauty Trainer
Help people look and feel their best as a personal beauty trainer. This career demands a thorough knowledge of makeup, cosmetology, skin care and esthetics, all of which we'll teach you at Esthetic Institute.
Beauty Editor
Fashion and beauty magazines, skin care industry trades, even daily papers all need Beauty Editors. Take your writing skills and the comprehensive knowledge you'll learn at Esthetic Institute and turn it into a career that can really lead the beauty industry.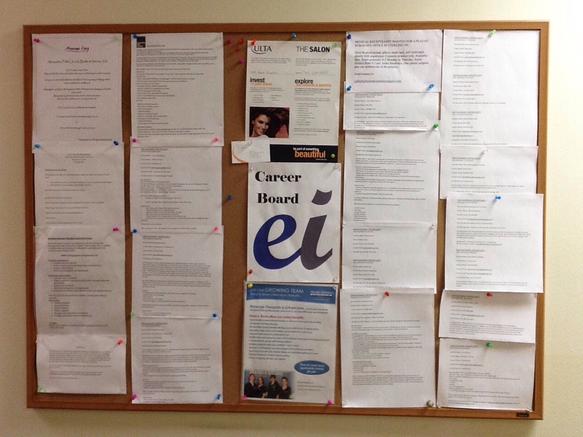 Below are some of the Online Sites you can use to post your resumes or apply for local Job Postings:
BigDreamJobs
MyJobHelper
GetEstheticianJobs
Employers, Are You Looking to Fill That Vacant Position?
Click Here to Post your Job Opening